Former : optimistic about "One Belt And One Road" prospect: deutsche bahn plans to increase train freight to China
Reference news network reported on July 2, Japan "the nikkei Asian review magazine website published an article on June 29, the German railway group bets" neighbourhood "all the way, increase freight trains in China," said Germany's state-owned railway group, the German railway company plans to significantly improve the transport capacity in China, the bottleneck in the hope that the Beijing "area" interconnectivity plans to continue support for road transport.
According to the article, deutsche bahn's freight department is planning to increase rail freight services between China and Europe by 17.6 percent next year, to 100,000 standard containers from the current 85,000.
While rail still accounts for a paltry 1.5 per cent of total freight traffic in Europe and China, transport industry observers predict growth as companies on both sides take advantage of trains.
The beneficiaries include Chinese e-commerce leader alibaba and German luxury car brand porsche. The former seeks to increase marketing in Europe, while the latter does not manufacture cars in China.
According to the article, deutsche bahn set up the Eurasian freight company at the end of 2018 due to the increasing importance of eu-china trains to the portfolio of German railway companies. Carsten shinne, the company's chairman, said: "our forecast for increased freight capacity is d on the company's success in expanding the destinations to which China connects with our European rail network, which is the largest in Europe."
"In addition to China's subsidies under the 'One Belt And One Road' initiative master plan, there are also customer policies to reduce carbon dioxide emissions," he added.
According to the article, the main advantage of rail freight over sea transportation is that it can reduce the transportation time by more than half, from Germany to Chinese metropolises, such as xi 'an, chengdu and chongqing, in 14 to 18 days, and save the transportation cost greatly compared with air transportation.
Deutsche bahn began its europe-china service in 2011, when just 900 containers began the journey, mainly carrying high-value electronics for export to Europe and spare parts for Chinese carmakers.
According to a survey conducted in China by the logistics and transportation department of the higher professional college of vocational promotion in Vienna, the cost of container shipping to Europe has decreased by an average of 40% since 2011 through subsidies. The cost of shipping a standard container is $4,000, more competitive than shipping by sea.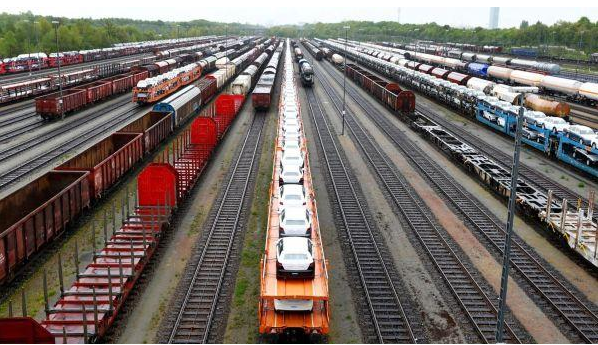 Deutsche bahn's freight department plans to significantly increase its capacity in China, pictured here with freight trains at a railway yard in Munich. (Reuters)